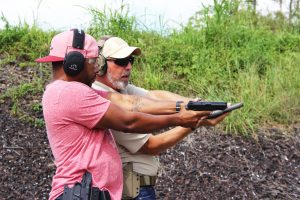 "Slack out!" This phrase will be engrained in every shooter after handgun training at C2. Trigger Control. It is one of the three key fundamentals to accurate shooting.
Last weekend, we had another phenomenal group for our Concealed Carry Class. Folks from all walks of life – real estate agents, stay-at-home moms, advertising executives, engineers – are seeking training and certification to carry a concealed handgun. In a world with drive-by shootings, ambushes of armed officers, and riots, personal safety is in the forefront of many Americans' minds. Here at C2 Shooting Center, we take seriously the task of equipping people with the knowledge and skill to carry a concealed firearm.
Did you know that the Commonwealth of Virginia is NOT a stand your ground state? Do you know the distinction between excusable homicide and justifiable homicide? And what does it mean to have a good sight picture and trigger control? The answers to these questions and more are a part of the 8-hour course here at C2. Our classroom work is not for the faint of heart – it is a four hour session with information about carrying a firearm and the laws regarding the same. You will be familiar with several types of weapons, firearm safety, the legal intricacies of the laws that apply to concealed weapons and those that apply should you have to use one, and more.
Our range time which follows is also unlike any other concealed carry class. Classes are limited to six students so that each person receives individual instruction with his or her firearm. Don't have a firearm and are unsure as to which one is right for you? We have several variations for use and will work with you to find a firearm that fits your body and shooting style. From newbies to experienced shooters, we use 3-inch dots, 6-inch dots, and steel plates to work shot progression focusing on accuracy under stress. You will feel confident in you ability to shoot when you leave a C2 class.
At C2 Shooting Center, we take training and safety very seriously. It is a great responsibility to carry a firearm for personal protection, and one that should not be taken lightly. We appreciate the enthusiasm and desire to carry responsibly that each student brings when arriving at C2 for our classes. This weekend was no exception! Thanks for training with C2!